Legal March Madness Betting For 2018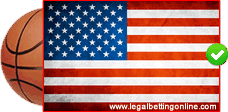 No two words evoke emotion among basketball betters more than "March Madness." Utter these words, and some gamblers may start salivating. But what is so special about March Madness that it not only stirs so much emotion but also drives the exchange of so much money? Let's have a look at what March Madness is, different strategies for betting on the tournament, and even a look at why so many people love it. First we will discuss the legalities surrounding March Madness betting and college basketball betting in general. This part of the betting equation can be confusing, so we've delivered the information in an easy to digest and understand format that really eliminates a lot of the complexity regarding the legal status of the US gambling landscape.
Is it legal to bet on the March Madness college basketball tournament in the US?
The answer to this question is both yes and no. It really boils down to the location of the sportsbook destination at which you want to participate. There are two federal laws that govern sports betting in the United States: the Professional and Amateur Sports Protection Act (PASPA) and the Federal Wire Act. These two laws combined prohibit USA based online and offline sports betting, with the exception of four specific regions that were exempted from the PASPA law when it was enacted. Those 4 states are Delaware, Montana, Nevada and Oregon. Of those four, only Nevada and Delaware offer their residents and visitors any type of sports betting, and Nevada is the only big player in the scene. Betting options are extremely limited in Delaware.
While these two gambling laws do effectively restrict US based sports betting, they do not have any impact on legally sanctioned offshore sports betting. These federal laws do not prohibit US residents from placing bets on the March Madness basketball tournament through online sportsbooks that are legally licensed, regulated, and located outside of the United States. The kicker here is to be sure you restrict your betting action to only those destinations that are verified to indeed posses legitimately licensing and certifications. Should you participate in any type of unlicensed sportsbook gambling, you may be in direct violation of state and federal laws. The sportsbooks that we recommend are all vetted by professionals and are guaranteed to offer licensed betting services.
While you may have heard that the UIGEA makes it illegal for US residents to participate in online gambling, I can assure you that this is not the case. In fact, the UIGEA bill does not even address player participation. The law is directed at online gambling site operators and payment processors. The law simply places regulatory oversight regarding how gambling related transactions can be processed in the US. You will never hear about a player who was investigated on charges of violating the UIGEA, because the law deals with industry professionals, not those who participate in their services.
Take for example the 2011 Poker Black Friday events. No players were investigated or permanently deprived of the funds associated with their account. Some players did experience delays in gaining access to their funds when the business assets were frozen, however this was a temporary situation that was resolved.
Legal March Madness Betting Sites
As mentioned several places on this page, it is imperative that you restrict your betting activities to only legitimate sportsbooks that are verified to be operating legitimately within the industry, such as the sportsbook brands you see recommended in this guide. Our team has carefully reviewed and evaluated every element of these sportsbooks and their operation. We not only verify their credentials, but we take a close and thorough look at their security profile, the quality of their betting lines, paylines, banking suite, customer support, user interface, and many more components to their business.