Legal March Madness Betting Guide For USA Players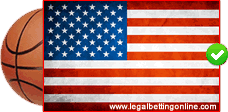 No two words evoke emotion among basketball betters more than "March Madness." Utter these words, and some gamblers may start salivating. But what is so special about March Madness that it not only stirs so much emotion but also drives the exchange of so much money? Let's have a look at what March Madness is, different strategies for betting on the tournament, and even a look at why so many people love it. First we will discuss the legalities surrounding March Madness betting and college basketball betting in general. This part of the betting equation can be confusing, so we've delivered the information in an easy to digest and understand format that really eliminates a lot of the complexity regarding the legal status of the US gambling landscape.
Is it legal to bet on the March Madness college basketball tournament in the US?
The answer to this question is both yes and no. It really boils down to the location of the sportsbook destination at which you want to participate. There are two federal laws that govern sports betting in the United States: the Professional and Amateur Sports Protection Act (PASPA) and the Federal Wire Act. These two laws combined prohibit USA based online and offline sports betting, with the exception of four specific regions that were exempted from the PASPA law when it was enacted. Those 4 states are Delaware, Montana, Nevada and Oregon. Of those four, only Nevada and Delaware offer their residents and visitors any type of sports betting, and Nevada is the only big player in the scene. Betting options are extremely limited in Delaware.
While these two gambling laws do effectively restrict US based sports betting, they do not have any impact on legally sanctioned offshore sports betting. These federal laws do not prohibit US residents from placing bets on the March Madness basketball tournament through online sportsbooks that are legally licensed, regulated, and located outside of the United States. The kicker here is to be sure you restrict your betting action to only those destinations that are verified to indeed posses legitimately licensing and certifications. Should you participate in any type of unlicensed sportsbook gambling, you may be in direct violation of state and federal laws. The sportsbooks that we recommend are all vetted by professionals and are guaranteed to offer licensed betting services.
While you may have heard that the UIGEA makes it illegal for US residents to participate in online gambling, I can assure you that this is not the case. In fact, the UIGEA bill does not even address player participation. The law is directed at online gambling site operators and payment processors. The law simply places regulatory oversight regarding how gambling related transactions can be processed in the US. You will never hear about a player who was investigated on charges of violating the UIGEA, because the law deals with industry professionals, not those who participate in their services.
Take for example the 2011 Poker Black Friday events. No players were investigated or permanently deprived of the funds associated with their account. Some players did experience delays in gaining access to their funds when the business assets were frozen, however this was a temporary situation that was resolved.
Best USA Sportsbook For Betting March Madness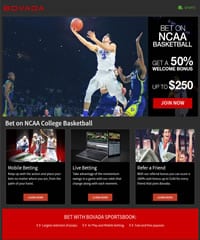 Bovada is the highest rated online sportsbook that caters specifically to US players. They currently offer a 50% matching bonus up to $250 to bet on March Madness basketball. In addition they also offer some incredible free contests and brackets to existing customers where players can win their share of over $25,000 in prize money.
One of the reasons Bovada is so popular with players is due to the fact that in addition to sports betting, they also offer casino and poker action all from the same players account. And the fact that they are extremely reputable and pay off players like a bank makes them a perfect choice.
 Pros
US Friendly
Most trusted gambling site in the industry
50% bonus up to $250
Easy deposits using credit cards or bitcoin
They always pay winners, no monkey business
Cons
Only accepts U.S. Mexico And Brazil Players
Excluded States: NY, NV, NJ, DE, MD
Legal USA Friendly Sports Betting Sites
To Bet On March Madness
Best Strategy for Betting on the March Madness NCAAB Tournament
Many people have strategies for betting on their basketball brackets when March Madness rolls around, but let's be honest here: Few of them are actually lucrative. By and large, most strategies are just wives tales or some variation of a numbers scheme created by people who aren't exactly mathematicians. This leads to a lot of money lost. Do we have more solid strategies for you to use? Yes and no. First, don't take these as gospel. There is no way to be mathematically sound for a sure bet. It's just impossible. However, there are different ways to limit your risks and to increase your odds of success. Those are the methods we'll be touching on below.
The particular strategy is one we'll refer to as a thinned field. When the tournament first starts up in March Madness, you have 68 separate teams. Attempting to bet on this opening round will be incredibly difficult, as you can be sure of many upsets and a whole lot of things being shaken up. The next round, which consists of 34 teams, is easier to grasp, but still a minefield of upsets and heart-breaks. The most sound strategy is to wait until the Sweet Sixteen to begin your betting. Once the field has been set with teams that have already won two games, you start to get a solid feel for what teams can do. You have more stats to go by. You can see if the team you like has been playing well; you can check their team stats for offensive and defensive output, and you can juxtapose them against their opponent for a measured decision. This also gets you past the curse of the high seed. For instance, you may no longer be tempted to take a #1 just because it's a #1. You may run into a 1 vs. 4, with the 4 actually looking more favorable.
By waiting until the round of 16 to study and bet, not only do you have a broader body of work to look at for your decision, but you also have less general chaos. Things have settled down and you can simply judge teams based on merit and not only on seeding and knockout potential.
How March Madness 2018 Is Expected To Play Out From Our Point Of View
What a March Madness it has been so far. There have been more upsets in this year's tournament than ever before. We're in the Sweet 16 stage and if you are just now tuning in you'll be surprised to see which teams have advanced. The predicted top-seeded teams all achieved the #1 slot, but only 2 are left in the tournament. Virginia, which 18.5% of ESPN Tournament Challenge Brackets had winning the whole thing, were knocked out by #16 UCMB. It was the first instance of a #16 seed team knocking out a #1 seed in the men's tournament. #1 Xavier was bounced by #9 Florida State in the second round. Most of our #2 seed predictions came true (except for Michigan State which landed at #3), though only Duke and Purdue are still in it. UNC was knocked out by Texas A&M.
Most of our predictions came true as far as who to watch. Duke and Villanova look great and are still in the running. They are both favored to make the Final Four. We got some things wrong, however. St. Mary's ended up not making the tournament and Gonzaga could see an upset against the red-hot Florida State Seminoles. Virginia broke thousands of brackets with their early loss and Michigan State fell short of expectations against Syracuse.
As things stand now, we see Kentucky, Villanova, Florida State and Duke advancing to the Final Four. The only close call is with Florida State, which may not be able to close out against Texas A&M. While there are still some underdogs in circulation, Kentucky practically has a cakewalk to the Final Four and both Villanova and Duke are playing incredible basketball. Based on our Final Four predictions, with Kentucky v. Villanova and Florida State v. Duke, we predict a Villanova-Duke championship with Villanova taking it home.
Why Fans Love March Madness
If you were forced to bottle up reasons for why fans love March Madness, what would you say? The obvious is that it's the year's biggest, fastest tournament. But more than that, it's the type of story America loves. It's like Rocky Balboa every year, when a team that barely limped in makes it to the Elite Eight and threatens to take it all. It never fails; it proves that motivated kids can truly control their fate. The one-off system is also something fans love. While many complain that the NFL's playoff system doesn't provide enough opportunity, since it's a one-off, this is actually an aspect of college ball that we appreciate more than the NBA. Sure, a seven-game series has its high points, but there's something about a one-off that's truly exciting. Anyone can beat anyone, and often we see this happen. It's an opportunity for smaller schools to become bigger names, and we love the total ambiance of the tournament.
Just remember to not allow your love for the tournament to lead to misplaced bets. Always study what you're betting on, and always make informed decisions. Try to wait until at least the Sweet Sixteen before you start gambling real money, and never neglect to look at team stats to get an idea of how teams play against stiff competition.
March Madness Dates And Schedule For 2018
Selection Sunday starts on March 13th, 2018. Final Four starts March 31st and the championship game is played on April 2nd for the whole enchilada.
March Madness Resources
Downloadable March Madness Bracket From ESPN - Download your free bracket from ESPN
Official March Madness Site - From news, to tournament updates in real time, the official NCAA March Madness site has you covered.
Follow March Madness On Twitter - Follow march madness on Twitter to stay in the loop on everything.