Legal Kentucky Derby Betting Guide For 2018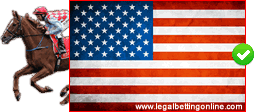 The 2017 Kentucky Derby is the 142nd running of the Greatest 2 Minutes in Sports. Arguably the most important North American thoroughbred horse race, The Run for the Roses at Churchill Downs held on Saturday, May 6th will kick off the first leg of the US Triple Crown. Irish War Cry, Gunnevera, Classic Empire, and McCracken should all contend for the title. However Lookin at Lee who is in the #1 spot is always interesting, even at 30/1 odds since the first position has actually seen 12 Kentucky Derby champions, tied with the #5 spot for most all-time.
Derby Results
1st: Always Dreaming
2nd: Lookin At Lee
3rd: Battle of Midway
4th: Classic Empire
Payouts
The payouts were huge this year do to having 2 longshots in the top 3 spots.
Win: $11.40
Place: $7.20 For Always Dreaming And $ 26.60 for Lookin At Lee.
Show: $5.80 for Always Dreaming, Looking At Lee $15.20 and $20.80 for Battle Of Midway
$2 Exacta: $336.20
$1 Trifecta: $8,297.20
$1 Superfecta: $75,974.50
Is Betting On The Kentucky Derby Legal In The US?

The Kentucky Derby is probably the single most identifiable and popular thoroughbred horse race in the world. But is it legal to bet on the Kentucky Derby in the US? YES - Betting on horse racing is 100% legal in the United States! The Interstate Horse racing Act of 1978 makes wagering on horses 100% legal. And when the UIGEA bill was introduced in 2006, the horse betting industry was not affected due to special carve outs that were made. It essentially left it up to the states as to whether or not they wanted to legalize horse betting. If you reside in one of the states that offer it, you have a few more options than most people.
However even if you don't live in a state that has legalized horse racing and betting, there are still many other legal options available to you including playing at an offshore site. Betting at these offshore sites is 100% legal, because they are located outside the US borders and are not subject to US law. In addition, the offshore racebooks that we recommend are all extremely reputable. As a matter of fact these companies have been doing business for decades now and have much deeper pockets that any of the state regulated sites, so your money is perfectly safe. Not to mention that you will find much better bonuses, faster same day payouts, easier ways to deposit and a host of other benefits you won't find elsewhere. Even the vast majority of smart money players in Las Vegas choose to play at the offshore sites because of the inherent perks and benefits the sites offer to players.
Below we review most reputable and secure online Kentucky Derby betting sites that accept all USA players. Every site has been carefully vetted by our team of professionals and are proven to be the most trusted names in the industry. You won't find any shady sites listed on legalbettingonline.com, I guarantee it.