Kentucky Derby Horse Betting For 2020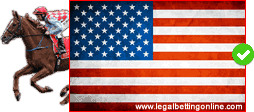 The 2019 Kentucky Derby is the 145th running of "The Greatest 2 Minutes In Sports." Arguably the most important North American thoroughbred horse race, the Run for the Roses at Churchill Downs kicks off the first leg of the US Triple Crown. The 2018 Derby winner was Justify, who went on to win the Triple Crown title for the first time in 3 years. This year provides an interesting narrative because there is no heavy favorite, meaning it is anyone's race to win.
Is Betting On The Kentucky Derby Legal In The United States?

Yes - betting on horse racing is 100% legal in the United States! The Interstate Horse racing Act of 1978 makes wagering on horses 100% legal. And when the UIGEA bill was introduced in 2006, the horse betting industry was not affected due to special carve-outs that were made. It essentially left it up to the states as to whether or not they wanted to legalize horse betting. If you reside in one of the states that offer it, you have a few more options than most people.
However even if you don't live in a state that has legalized horse racing and betting, there are still some other legal options available to you including playing at an offshore site. As long as an online racebook is licensed, regulated, and located outside of the USA (such as the ones you see on this page), there are no Federal regulations prohibiting placing bets on the Derby at these sites.  The exception is for Washington state and Connecticut, both of which have made all forms of online gambling illegal.
Best US Online Horse Betting Website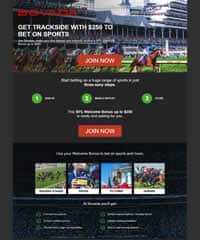 Bovada racebook is one of the most popular and reputable online horse betting sites that accept USA players. They are a giant in the gambling industry and are trusted by millions of players from the United States. They offer some of the best lines for betting on the Kentucky Derby in 2018 with some excellent promotions for the big race.
 Pros
Almost All USA players accepted
Owned by the Bodog group - Very reputable
Easy credit card funding with great approval rates
Now accepting Bitcoin
Generous 50% signup bonus
5% cashback rebate for the derby
Enjoy sports betting, casino and horses
Cons
They only accept U.S. players - no other countries allowed
Excluded States: NY, NV, NJ, DE, MD
Legal USA Friendly Horse Betting Sites
To Bet On The Kentucky Derby
Details Of The 145th Running Of The Kentucky Derby
Date: May 4th, 2019
Time: 6:34 PM
Channel: NBC - coverage begins at 2:30
The 145th Kentucky Derby is set for Saturday, May 4, at the Churchill Downs racetrack in Louisville, Kentucky. 20 horses will be racing for victory in the first installment of the Triple Crown series. Pole positions will be announced on the morning of May 2nd, and what a lot of people don't realize is that the pole positions can impact multiple aspects of the race.  We will likely see a shifting in the odds before the race due to these positions.  Some sportsbooks wait until pole positions are announced to put any of their odds up.
There is a $2 million purse at stake with the winner claiming $1,425,000. The winner will hope to take that momentum onto the Preakness Stakes in the quest for the Triple Crown.
145th Kentucky Derby Pole Position and Betting Odds
Odds provided by Bovada.
War of Will 20-1
Tax 20-1
By My Standards 20-1
Gray Magician 50-1
Improbable 6-1
Vekoma 20-1
Maximum Security 10-1
Tacitus 10-1
Plus Que Parfait 30-1
Cutting Humor 30-1
Haikal 30-1
Omaha Beach 4-1 (scratched)
Code of Honor 15-1
Win Win Win 15-1
Master Fencer 50-1
Game Winner 5-1
Roadster 6-1
Long Range Toddy 30-1
Spinoff 30-1
Country House 30-1
Bodexpress 30/1
Who will win the 2019 Kentucky Derby?
With a name like Game Winner, this racehorse was destined to win the 2019 Kentucky Derby, right? Maybe. But the Bob Baffert-trained thoroughbred only became the favorite after Omaha Beach was scratched from Saturday's race due to an entrapped epiglottis (an upper airway abnormality). Improbable and Roadster — who were also trained by Baffert — are ones to watch out for as well, rounding out the top 3 places. And if you prefer to bet longshots, then By My Standards at 15-1 (was 20-1) might be where the value is and the horse is starting to get a lot of love from the Kentucky Derby insiders.
What Is The Kentucky Derby?
It is widely regarded as the most prestigious thoroughbred horse racing event in the world, and one of the most popular for legal online horse betting. Currently, online Kentucky Derby betting legality dictates that U.S. players either place a wager online through their state's licensed and regulated horse track websites, or a physical track.
There are also some legal poker rooms throughout the United States which offer pari-mutuel gambling on horse races, but the most readily available and popular Internet Kentucky Derby gambling option is through an offshore sportsbook. If the word "offshore" scares you, that is a good thing. There are no doubt some less than reputable companies operating offshore which offer close to a no-win situation to even the seasoned and veteran sports gambler.
That is why you will find us continually throughout this website preaching a thorough review process for any an all legal online gambling sites you consider bringing your business to. Just because a particular site claims to offer legal Kentucky Derby betting, as well as gambling on other events and sports, this does not mean it is reputable or safe.
On our home page you can see the exact review process we use before we open an account with any online sportsbook, and we highly recommend that you either spend some time conducting your own extensive reviews, or take advantage of our years in the online gambling industry by checking out our recommendations.
The good news is there are a few big-name players which understand that betting on Kentucky Derby legally is often undertaken by even the casual sports fan. By offering a safe and secure experience, they know this single sporting event can bring them new customers.
As far as a betting strategy for this famous horse race, check the Kentucky Derby lineup as soon as it is released every year. The more reputable online sportsbooks post a listing of the Kentucky Derby entrants as soon as it is available, along with the early opening odds.
We recommend opening accounts at multiple online sportsbooks, and we also suggest checking those sites for Kentucky Derby odds as early as March or April every year. We also watch the major races leading up to the Derby which are held around the United States and in Europe each year.
This gives the intelligent gambler an excellent shot at predicting the next winner of The Run for the Roses, and holding open accounts at multiple sportsbooks means getting the best possible odds for your money.
Betting The Kentucky Derby
Legal online Kentucky Derby betting gives the veteran gambler a chance to place a wager on one of the oldest and most storied sporting contests found anywhere in the world. Held every year since 1875, The Run for the Roses is held on the first Saturday in May in the United States each year. The famous Churchill Downs in Louisville, Kentucky is the horse track where the first leg of the vaunted Triple Crown of thoroughbred horse racing is run, and the total purse is usually north of $2 million.
The 2019 Kentucky Derby date is May 4th, and exactly 5 weeks later at the Belmont Stakes the Kentucky Derby winner may very well have inked its name in the Triple Crown record book alongside 11 other famous horses such as Affirmed, Seattle Slew and Secretariat.
If you live in Kentucky or go to the actual track itself, you can place legal wagers through sites operated by Churchill Downs. Kentucky is a state where horse race betting is legal. For those US citizens outside of Kentucky, you can find legal Kentucky Derby betting options through licensed offshore sportsbooks.
Sports betting is limited due to several federal gambling laws, however licensed offshore sportsbooks are technically legal options and outside US jurisdiction. As long as the sportsbook is licensed and regulated by a respected government, US citizens face no legal penalties by wagering with these sites. Fans also enjoy legal Triple Crown betting using the same resources.
Licensed offshore sportsbooks present a multitude of perks such as bonuses, prop bets, mobile and live wagering and much more. The ones we recommend also offer a racebook for horse betting. Be sure to verify that the sportsbook or racebook you are using is both licensed and regulated, thus ensuring a safe and legal online betting experience.
There are several racebooks found through highly-regarded offshore sportsbooks catering to US residents. Each of which hosts betting lines on the Kentucky Derby. You will find the racebooks listed above all fall into this category.
2018 Kentucky Derby Results
Justify – won $1,432,000
Good Magic – won $400,000
Audible – won $200,000
Instilled Regard – won $100,000
My Boy Jack – won $60,000
Bravazo
Hofburg
Lone Sailor
Vino Rosso
Solomini
Firenze Fire
Bolt d'Oro
Flameaway
Enticed
Promises Fulfilled
Free Drop Billy
Noble indy
Combatant
Magnum Moon
Mendelssohn
Other Past Winners
2018 - Justify
2016 - Nyquist
2015 - American Pharoah
2014 - California Chrome
2013 - ORB
2012 - I'll Have Another
2011 - Animal Kingdom
2010 - Super Saver
List Of States That Have Legalized Horse Betting
The following states have passed laws that make it 100% legal to bet on horse races. Keep in mind that even if you don't reside in one of these states, you can still legally wager at one of the offshore sites we recommend above. The current US gambling laws don't make the act of betting illegal but instead make the act of offering betting illegal.
So the person who bets with his local bookie isn't breaking any laws, but the actual bookie accepting the bets is. However this doesn't apply to the offshore sites because they are not located within the United States borders. Check out our state gambling directory for laws and information about a specific state. Or you can check out our legal Kentucky online gambling guide if you live in the state.
| | | | |
| --- | --- | --- | --- |
| Alabama | Illinois | Nebraska | South Dakota |
| Alaska | Indiana | Nevada | South Carolina |
| Arkansas | Kansas | New Hampshire | Tennessee |
| Arizona | Kentucky | New Jersey | Texas |
| California | Louisiana | New Mexico | Utah |
| Colorado | Maine | New York | Vermont |
| Connecticut | Maryland | North Dakota | Virginia |
| Delaware | Massachusetts | North Carolina | Washington |
| Florida | Michigan | Ohio | West Virginia |
| Georgia | Minnesota | Oklahoma | Wisconsin |
| Hawaii | Mississippi | Oregon | Wyoming |
| Idaho | Missouri | Pennsylvania | |
| Iowa | Montana | Rhode Island | |
2018 Kentucky Derby Summary
Justify was the heavy favorite heading into this race. He had only 3 starts before this race but each of those was won with Beyer Speed Figures in the triple digits. Some superstitious bettors didn't like Justify because he fell under the Apollo's Curse, which is the fact that had no horse had won the Derby without racing as a 2-year-old since Apollo in 1882. Trainer Bob Baffert was optimistic in his horse despite the curse.
Trainer Todd Pletcher (won the 2017 Derby with Always Dreaming) had 4 horses in this race—Magnum Moon, Audible, Vino Rosso and Noble Indy. Each of these horses were amongst the favorites and expected to perform well.
Good Magic and Bolt d'Oro were other horses to look out for given their form during the last year of racing. Mendelssohn provided a sleeper favorite to win as the international competition. The Irish horse had success in other tournaments and his staff believed that could translate to the Derby.
There were heavy rainfalls leading up to the race. It was actually a record level of precipitation that shattered the previous record established in 1918. The track was considered sloppy, but the race still went on and lots of people showed up. The full race betting card pulled in a total handle of $225.7 million.
Justify broke out of the gate well and took up a position close to the rails slightly behind Promises Fulfilled. Bolt d'Oro, Flameaway and Good Magic were close behind through the first turn. Promises Fulfilled back off heading into the final turn, prompting Bolt d'Oro and Good Magic to make a break for the top spot.
Justify met the challenge and obtained a 2.5 length lead by the time he crossed the finish line. Other horses like Mendelssohn were thrown off and bumped around in early traffic out of the gate. With the victory, Justify obtains the first jewel of the coveted Triple Crown.
Derby Resources And Helpful Links
Official Kentucky Derby Website: http://www.kentuckyderby.com/ - This site does not offer betting but is a fantastic resource if you want to read up on the latest news, entries, race results ect..
Additional Legal Sportsbook Betting Options:
Legal NFL Betting Sites: Find information on high quality and respected sports betting sites that offer a wide range of NFL betting lines and wagering options, as well as player and team stats and additional helpful resources.
Legal NBA Betting Sites: NBA fans can visit this section to gain access to our most trusted and secure sportsbooks that cover NBA basketball events closely, including the pre and post season action.
Legal MLB Betting Sites: Our guide to betting on MLB baseball games will provide you with access to online sportsbooks which have already been vetted by our team, and were found to be secure, legal, and offer an overall distinguished sports betting experience.
Other Legal Online Gambling Platforms To Consider:
Legal Online Casinos: Get information on the industry's most trusted and secure online casino options that have been personally vetted by our team of online gambling professionals and found to be completely legitimate and safe.
Legal Online Poker Sites: Finding safe and secure online poker gaming opportunities may not be quite as easy as a simple Google search. You'll want to ensure that each poker room you consider is licensed, certified, users high quality software, and offers a high end security profile. Our team of professionals has done this for you and created this guide to assist you.
Legal Online Bingo Sites: Online bingo has been gaining momentum in the last few years and has become the new trendy social outlet for online gamblers who enjoy mixing it up. Our guide will lead you to the safest and most trusted brands in the online bingo industry.