Legal Triple Crown Betting Guide For 2018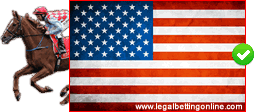 The Triple Crown is a series of 3 horse races in the US that takes place over several weeks throughout May and June. It is comprised of the Kentucky Derby, Preakness Stakes and Belmont Stakes. The Triple Crown series is considered one of the most storied traditions in horse racing. There is a lot of betting activity surrounding the Triple Crown races each year as well. For a horse to complete the Triple Crown, they would have to win all 3 races. It has only happened 12 times in history. The most recent winner in Triple Crown history came in 2015 with American Pharaoh. This page is dedicated to the Triple Crown racing series and has information to help form your strategic betting plan.
Establishing Early Triple Crown Betting Odds
Predicting a correct Triple Crown winner yields a lot of money in legal horse betting, especially if you can get your wagers in early. Some people begin placing future bets on a potential Triple Crown winner as early as before the Kentucky Derby. If you place a bet sooner than later, you can lock in better odds versus waiting for the safe bet. For example, if a horse wins the Derby, their odds to be a Triple Crown winner increase. If that same horse wins the Preakness, their odds increase greatly. Placing a bet on a horse that has won 2/3 horses will be much steeper compared to what you could've locked your odds in at prior to the first leg. Predicting a Triple Crown winner that early on is an obviously difficult task. The best strategy is to look at the favorites heading into the Derby. If those horses do well and escape without injury or strain, they will compete in the second and third legs.
Is It Legal To Bet The Triple Crown Horse Race Online In The United States?

Yes. Some states permit online horse race betting through sites operated by the tracks themselves. For those outside of the race states, licensed offshore racebooks present the only legal viable alternative. If the online racebook you are using is both legally licensed and regulated through a legitimate governing jurisdiction located outside of the United States, you are not in violation of any US gambling laws. The licensed offshore sportsbooks and racebooks listed in this guide are legal based on their licensing credentials and regulatory protocols. It is not unusual for offshore online racebooks and sportsbooks that offer Triple Crown betting odds to provide an expanded range of wagering options that exceed those offered at physical racetracks.