Legal Triple Crown Betting Guide For 2018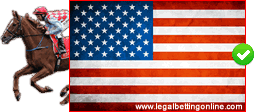 The Triple Crown of horse racing is like no other wagering option. Held over a five-week period in May and June in the United States each year, the three races for three-year-old thoroughbreds comprising the Triple Crown are the Kentucky Derby, Preakness Stakes and Belmont Stakes. There have only been 11 horses since its beginning in 1875 to claim this prestigious title, and that is what makes legal online Triple Crown betting such a potentially profitable pastime. Since a horse must first win both the Kentucky Derby and Preakness Stakes to even have a chance at the elusive Triple Crown, this betting opportunity does not roll around frequently, and is guaranteed to attract the attention of the veteran gambler. It is one of the few times each year that racebooks and sportsbooks can outshine US online casinos and legal online poker gambling.
Betting on the First Leg of the Triple Crown
The last Triple Crown winner was Affirmed, jockeyed by Steve Cauthen, back in 1978. Since then 20 thoroughbreds have tried but failed to add their name to the list of Triple Crown winners, and each year Triple Crown betting odds begin to build in advance of the Kentucky Derby. That famed horse race is held in Louisville, Kentucky, USA at Churchill Downs on the first Saturday in May, and once saw Donerail in 1913 pay off 91 to 1 as the longest shot to win the Run for the Roses. But that horse was definitely the outlier, as generally, thoroughbred horse racing is so well handicapped that one of the few favorites each year will win the Kentucky Derby and the launch their bid for Triple Crown immortality. These odds make legal Kentucky Derby betting very enticing for horse racing fans.
This is why the savvy gambler will take advantage of legal Triple Crown betting immediately before or after the Derby. This will give you the longest possible odds, obviously meaning the biggest potential payday, should your horse win all three races. After a particular thoroughbred wins both the Kentucky Derby and Preakness stakes, its Triple Crown betting odds shrink drastically. The veteran online bettor looks for any way to increase his odds of winning as well as his possible payout, so marking your Triple Crown horse racing calendar for the first week of May is imperative. And since only one horse each year wins the Kentucky Derby, giving it a chance at the Triple Crown, betting selection is done for you. You simply have to choose the size of your wager.
Is It Legal To Bet The Triple Crown Horse Race Online In The United States?

The current status of online Triple Crown betting legality in the United States allows for Internet wagering in many states through the websites operated by licensed physical racetracks. And for those horse racing enthusiasts who are not lucky enough to live in a state that offers live or pari-mutuel thoroughbred horse racing, there is still a legal option. American citizens and travelers can still legally place a bet on the Triple Crown, or any individual major horse race, through sportsbooks which are registered and licensed in a gambling friendly jurisdiction located outside the US. Since these companies are not regulated by any central governing body, it is paramount that you undertake an extensive review process before opening an account and placing a Triple Crown bet.