Legally Betting On The NBA Playoffs And Finals For 2017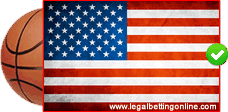 It might not bring in the fans like the Super Bowl or the World Cup, but the annual NBA Playoffs do bring in millions of viewers and billions of dollars in bets. From local bookies, to Vegas sportsbooks and the offshore sites, tens of millions are bet every year during the NBA playoffs. Will you bet wagering this year? Before you make your decision, we feel like we have a piece that you should read before proceeding. We're not going to get bogged down in the details of a regular season, or what it means to have a record number of wins. Throughout this piece, we're going to be focusing on the viable candidates still in the playoffs, and speaking about which teams would make a good bet and which teams you should avoid.
It's very hard to narrow things down to a few strong contenders when the first round of the playoffs isn't even over yet. However, after researching data trends, team numbers, records, and other crucial data, we feel as if we know which teams are going to perform well and which are going to flop and flounder under the pressure of the playoffs. We're not saying that you should definitely bet alongside us; though we are saying that we have actually put in the legwork for the coming predictions. We're not just guessing based on popular wagon-riding trends like so many others are doing. Throughout this piece, we'll examine the lines, the teams left in contention, and even injuries that may act as spoilers for some favorites.
The Legalities - Is Betting On The NBA Playoffs Legal In The US?
p>Believe it or not, there are actually no laws that prohibit players from betting at online sportsbooks. This includes
betting on the NBA
. The laws that do exist actually make the act or business of accepting bets illegal, not placing the bets. So if your local bookie created a website and allowed players to place bets, that would be illegal. But the act of you placing the bets wouldn't. And because all of the sites we recommend are offshore sites,
US gambling law
doesn't apply to them.
There is also some confusion about the UIGEA bill. Many websites report that this bill makes online gambling illegal. That's not true at all. The law is actually aimed at banks and financial institutions and makes it illegal for them to process any transactions related to gambling. But it has no text at all that actually makes the act of placing a bet illegal from the players side.
There are a handful of states that have gambling laws or provisions in place that actually make the act of betting illegal on the state level. However no player has ever been arrested simply for gambling online. The only cases of people being arrested or convicted that we are aware of have to do with the act of accepting bets, not placing them.