Legally Betting On The NBA Playoffs And Finals For 2019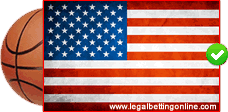 The NBA is growing in viewership, especially with the NFL's decline in popularity over the past couple seasons. The NBA Playoffs are when things get serious for players, fans and bettors. This time is where the big money wagers are. Fans can bet on point spreads, the money line, over/under, props and live wagers. This page is dedicated to the NBA postseason and has information regarding the Playoff matchups, insight into how to bet and more.
For the first time in a couple of seasons, the Playoffs look to be a bit more wide open in terms of favorites. Typically, the Golden State Warriors dominate the Western Conference and the Cleveland Cavaliers control the Eastern Conference. This year, there are a few other teams that may be able to provide an upset. Our analysis below goes into the Playoff teams and matchups. This page will be updated as the postseason continues.
The Legalities - Is Betting On The NBA Playoffs Legal In The US?
p>Believe it or not, there are actually no laws that prohibit players from betting at online sportsbooks. This includes betting on the NBA. The laws that do exist actually make the act or business of accepting bets illegal, not placing the bets. So if your local bookie created a website and allowed players to place bets, that would be illegal. But the act of you placing the bets wouldn't. And because all of the sites we recommend are offshore sites, US gambling law doesn't apply to them.
There is also some confusion about the UIGEA bill. Many websites report that this bill makes online gambling illegal. That's not true at all. The law is actually aimed at banks and financial institutions and makes it illegal for them to process any transactions related to gambling. But it has no text at all that actually makes the act of placing a bet illegal from the players side.
There are a handful of states that have gambling laws or provisions in place that actually make the act of betting illegal on the state level. However no player has ever been arrested simply for gambling online. The only cases of people being arrested or convicted that we are aware of have to do with the act of accepting bets, not placing them.
Top Site For Betting On The NBA Finals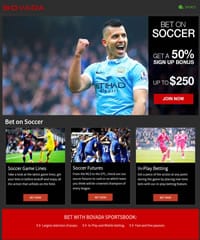 Bovada sportsbook is a household name in the online sports betting industry. They are actually part of the Bodog group, one of oldest and most reputable names in the industry. So if you consider trust and reputation to be a major factor in where you decide to play, Bovada is an excellent choice. They actually cater exclusively to USA players and offer everything you could imagine in the way of basketball betting lines and props.
New depositing players can claim their generous 50% bonus up to $250 on their first deposit. They accept all major credit cards and just recently starting accepting Bitcoin for both deposits and withdrawals. So getting your money both on and off the site is a piece of cake now.
 Pros
They legally accept players from 45/50 states
Best reputation in the entire industry
Generous 50% signup bonus up to $250 Free
Deposit using credit cards or bitcoin
They always pay, no monkey business here
Cons
Only U.S. Mexico And Brazil Players Accepted
Excluded U.S. States: NY, NV, NJ, DE, MD
Most Reputable Legal USA NBA Betting Sites
NBA Finals Betting Odds For 2017/2018 Warriors VS Cavs
NBA Finals Betting Odds
VS
Spread Game 7
Golden State Warriors

-8.5

Cleveland Cavaliers

+8.5

Money Line Odds
Warriors

-335

Cavs

+275

Totals
Over 230

-110

Under 230

-110

Series Winner Odds
Warriors

-2000

Cavs

+1250
2018 NBA Playoffs
16 teams compete in the NBA postseason. There are 8 teams from each conference and each team is given a seed number based on their regular season performance. The Playoff structure sees the #1 seed play the #8 seed, #2 seed play the #7 seed, #3 seed play the #6 seed and #4 seed play the #5 seed. Below are the teams from each conference:
Western Conference
Houston Rockets
Golden State Warriors
Portland Trail Blazers
Oklahoma City Thunder
Utah Jazz
New Orleans Pelicans
San Antonio Spurs
Minnesota Timberwolves
Eastern Conference
Toronto Raptors
Boston Celtics
Philadelphia 76ers
Cleveland Cavaliers
Indiana Pacers
Miami Heat
Milwaukee Bucks
Washington Wizards
So according to the Playoff structure, the first round matchups are:
Western Conference
Houston Rockets v. Minnesota Timberwolves
Golden State Warriors v. San Antonio Spurs
Portland Trail Blazers v. New Orleans Pelicans
Oklahoma City Thunder v. Utah Jazz
Eastern Conference
Toronto Raptors v. Washington Wizards
Boston Celtics v. Milwaukee Bucks
Philadelphia 76ers v. Miami Heat
Cleveland Cavaliers v. Indiana Pacers
Predictions
As you can see, there are some exciting matchups this year. There are also some fresh faces in the postseason, which is refreshing given the standard Warriors v. Cavs Finals we have all grown accustomed to. Now, that same matchup could very well happen again, but if you followed the NCAA March Madness tournament at all this year, you'll know that basketball is full of upsets. It is tougher to pull off an upset in the NBA postseason format (Best of 7 Series), but with some key injuries, roster changes, etc., this year's postseason could get interesting.
First Round Predictions
Western Conference
It seems the Golden State Warriors may not control the west anymore. The Houston Rockets look like an unstoppable force right now and are the team to beat. The Warriors have advanced to the Finals in the last 3 years, and many expected another Warriors – Cavs series this year, but the Rockets may have something to say about it. There are also a few outside teams to watch in the Pelicans, Thunder and more.
#1 Houston Rockets v. #8 Minnesota Timberwolves
The Houston Rockets have been electric all season long. They already had James Harden leading the team—an elite player who has made another strong case for MVP. However, the Rockets seemed to always be missing something in the Playoffs. With Chris Paul acquired in the offseason, they have found a solution to some of their problems. They have been the best team in the league this year, particularly on offense, and will likely light up the T-Wolves.
Minnesota is a promising young team. They have notable players in Karl Anthony-Towns, Jimmy Butler, Andrew Wiggins and even Derrick Rose. Where the T-Wolves falter is on defense, which could be a problem against a fast-paced offensive team like the Rockets. They ended their regular season on a high note and got Butler back from an injury, but don't expect him to play a full 48 minutes in each game. Despite Minnesota's tenacity, we predict Houston will win this round. It may not be a sweep, but Houston should clinch the series in 5 games at most.
#2 Golden State Warriors v. #7 San Antonio Spurs
Normally, this is the Western Conference Finals matchup. However, the Spurs have suffered a fall from grace with star Kawhi Leonard out for the season with injury. LaMarcus Aldridge has finally emerged in Leonard's absence, but he is not enough to carry the team. Veterans Tony Parker and Manu Ginobli are likely in their last season (at least Ginobli, maybe not Parker). The Spurs have arguably the best coach in the league, but even Coach Pop can't pull off a miracle against the Warriors. Their only saving grace is that Steph Curry may be limited.
There's the rub for the Warrioirs—Curry is questionable. He has been rested ever since suffering an ankle injury. Sure, the Warriors still have multiple All-Stars in Kevin Durant, Draymond Green and Klay Thompson, but Curry is the face of the franchise and an offensive sparkplug. The Warriors are looking vulnerable right now, and it is cause for some concern. Curry is supposed to be back for this series, but even if he is, they stand a risk of him further aggravating his injury. The Warriors are lucky to face a depleted Spurs in the first round, but they are not the same team that has won 2 titles in the past 3 years. Still, expect Golden State to emerge victorious.
#3 Portland Trail Blazers v. #6 New Orleans Pelicans
This is one of those matchups that will be very interesting. The Pelicans are without star big-man Demarcus Cousins, but they still have Anthony Davis to control the floor. Davis has had a strong season this year and posted some incredible stat lines heading into the Playoffs. They also have Jrue Holiday and veteran Rajon Rondo to help the offense flow. Most people thought the Pelicans would be down when Cousins went out, but they showed fortitude and talent to get to the postseason this year.
The Trail Blazers are one of those teams that always seems to be around but never makes an impact. Damian Lilllard is a force in the NBA, but he seems to be lacking the necessary reinforcements. CJ McCollum helps, and both have been performing quite well this season. Lillard had some off nights against New Orleans this year, so he is surely hoping to avoid future woes against the Pelicans. Even if he does come good in this series, we predict the Pelicans will pull off the upset. It may take 7 games, but New Orleans is on a mission.
#4 Oklahoma City Thunder v. #5 Utah Jazz
It is time to put up or shut for the Oklahoma City Thunder. They made headlines in the offseason by acquiring Paul George and Carmelo Anthony to form a new Big 3. However, their chemistry never really seemed to mesh in the way fans hoped. Still, they clinched a Playoff spot and have a shot of making this experiment worthwhile. Russell Westbrook is having another monumental year, averaging a triple-double for the second season in a row. They'll need to be firing on all cylinders to defeat the defensive Jazz.
It's true, the Jazz are solid on defense. Rudy Gobert clogs up the center lane like no other. He likely could've won defensive player of the year if he wasn't injured for part of it. As a whole, the Jazz are a tight defensive unit. The problem with the Jazz is they rely too much on rookie Donovan Mitchell, who while having an incredible season, can't be entrusted to carry his entire team. If Mitchell struggles offensively, the rest of the team seems to do so as well. This series could be close, but the Thunder must pull it out. If they don't, expect this current OKC lineup to break up in the offseason.
Eastern Conference
Just like the Warriors lost control of the west, the Cleveland Cavaliers have lost control of the east. The Cavs went through an entire roster change midway through the season after falling to impress. The Raptors exploded and the 76ers "Process" seems to finally have come through. The Eastern Conference is normally all Cavs, and while they look better than earlier this season, there are a few teams capable of knocking them off their mantle.
#1 Toronto Raptors v. #8 Washington Wizards
You can't judge the Raptors by the end of their season. They've known they were Playoff bound for some time, so better to backpedal and conserve energy for when it matters. The Raptors usually make a postseason run but seem to fall apart. This year, Kyle Lowry and DeMar DeRozan have a talented squad behind them that can take them to that coveted championship. They have young players to help lighten the load off the franchise's 2 stars. It will be interesting to see them hit the gas pedal again once the Playoffs begin.
The Wizards have talented players in John Wall, Bradley Beal and Otto Porter Jr. However, their chemistry seems to be lacking. Still, you don't have to be friends off the court to excel on the court. Beal and Wall make up the spearhead of the team with Marcin Gortat, Otto Porter Jr. and Kelly Oubre Jr. in tow. Their starting 5 is a deadly combination when playing well. Washington's problem lies in their bench. They do not have the same depth as Toronto, which could hurt them down the stretch. We predict the Raptors will make quick work of the Wizards in the first round.
#2 Boston Celtics v. #7 Milwaukee Bucks
The Celtics started this season with aspirations of winning a championship. They lost Gordon Hayward to a broken leg in the first game of the season and Kyrie Irving to a much needed ankle surgery. With both stars gone, the Celtics' chances decreased dramatically, but they still have talented players and one of the best coaches. The Celtics still have Al Horford, Jayson Tatum, Jaylen Brown and Terry Rozier available. Boston is lucky they drew the Bucks in the first round, as that is probably their best way of advancing to the second. Their best chances are to remain strong defensively, which will be tough without Marcus Smart.
Milwaukee has the Greek Freak, Giannis Antetokounmpo, but they are an inconsistent team. While Giannis is an undeniable talent, he is not going to be their saving grace for a championship. They made a couple of solid moves during the season including firing coach Jason Kidd and picking up Eric Bledsoe. If Boston cannot contain Giannis, this series is over. The Bucks need to capitalize on the Celtics' depleted roster and go all out offensively. Milwaukee's inconsistencies shine on the defensive side of the game. They'll need to keep the Celtics in check to ensure Boston doesn't run away with it. This matchup is difficult to call, but the Celtics are favored in most sportsbooks, so we'll go with Boston.
#3 Philadelphia 76ers v. #6 Miami Heat
This will be an interesting series. On the one hand, you have the 76ers, a team that is finally hitting its stride. The Process has finally panned out. Ben Simmons is performing at an incredibly high level and Joel Embiid is finally not hurt. They also have JJ Redick, Robert Covington and Dario Saric, not to mention a decent bench. This is a team full of young talent and more importantly, confidence. They provide a tough matchup for Miami.
Speaking of the other hand, the Heat are enjoying another strong season. Goran Dragic, Hassan Whiteside, Josh Richardson and Kelly Olynyk have all been productive this season. They got Dwayne Wade back from the Cavs after that failed experiment, giving the Heat a veteran leader and franchise legend. Miami has a strong coach in Erik Spoelstra and he'll need to be at his best to cover the key matchups. Miami's run this year is impressive, but the 76ers are a well-oiled machine and look tough to beat. We see the 76ers moving on.
#4 Cleveland Cavaliers v. #5 Indiana Pacers
That's right, the Cavs have been knocked down to the #4 seed. The Cavs went through a drastic roster change when things weren't working out. They got younger and faster. Larry Nance Jr., Jordan Clarkson and Rodney Hood seem to be fitting in fine with the new system. Cleveland may have lost Kyrie Irving in the offseason, but they don't seem to be missing a beat. LeBron James is still blowing by players in his 15th season. Some analysts still see this Cavs as the weakest in a while, but as long as LeBron is on the roster there is a chance. Plus, LeBron hasn't lost a first-round series in his entire career.
Indiana looks great this season. Victor Oladipo is a godsend and is much appreciated by his new team. There is also Thaddeus Young, Darren Collison, Myles Turner and Bojan Bogdanovic to consider as well. Despite their strong regular season, they are up against giants in Cleveland. It is tough to go up against the best player in the NBA. The Pacers may win a game or two, but they will not be able to defeat Cleveland in 7.
NBA Finals Preview
Will be updated once the Playoffs reach that point.
Good Bets For The Playoffs
In the Eastern Conference, we have two teams we think will make good bets going forward. The Cleveland Cavaliers should easily push past either the Celtics, Hornets or Pacers, whichever is the lowest seed to emerge. And the Miami Heat are, in our opinion, the sleeper of the playoffs. We feel that they will get through Charlotte without any issue, and if they end up playing Toronto, they will give the Raptors everything they can handle for a full seven games. So if you're wondering who the top two teams are remaining in the East in terms of bets, we'd go with the Cavs and Heat. Both teams are on a mission to prove that they can compete, and Miami is a lot more explosive than they appear. Charlotte has been playing lights out ball, but we don't expect that can continue.
Bad Bets For The Playoffs
We also like two teams in the West, and it's no mystery who we'll pick. The Golden State Warriors can get past the Rockets or the Clippers with or without Steph Curry. Sure, they will be much better with him, and much more likely to cover the spreads, but they can still beat the LA Clippers without him. Part of the reason is that if the Warriors stay without Curry, it evens out because the Clippers are without Chris Paul, who broke his hand in his last game. So the odds are great that the Warriors will end up in the Western Conference Finals. The next team we expect to be a surefire bet is the Spurs. San Antonio will be playing the Oklahoma City Thunder in a few days, and while they're young and fast, they're not nearly as deep as the Spurs. The Spurs proved this during the regular season by staying well ahead of the pack, and there's nothing about the Thunder to cause one to believe they can compete on San Antonio's level of excellence. Better players and better coaching should equate to a one-sided series, 4-1 or 4-2 at best.
The Types of Bets You Can Make on the Games
When betting on the NBA Playoffs, you're going to find quite a few bets at most sportsbooks. Even smaller sports betting sites offer ample options for an event this large. This is because many experienced gamblers go far beyond simply betting on the outcome of a game or series and instead bet per half, per quarter, make prop bets, bet on futures, etc. In this regard, there is certainly no shortage of betting types or structures you can find with most sportsbooks. Here are a few of the betting types you will likely see:
NBA Game Lines: Where you bet on point spreads, over-under scores, etc, per a single game
NBA Series Price: This is where you'll find odds for the entire series, e.g. Spurs vs. Thunder
NBA 1st Quarter Lines: With these bets, you're simply betting on first quarter action
1st Half Lines: Instead of a quarter, you're betting on scores, individual stats, etc, that take place in the first half of a game
2nd Half Lines: Same as above, only with the second half instead of the first
All quarters: Basically the same as 1st quarter, only for all three other quarters as well
NBA Props: Props are where you can bet on how many free throws someone will take, their shooting percentage, and other odds and ends
Game Futures: These are basically like straight bets whereby you will select a team you think will win in the future and place your bet
Conference Finals: These are futures that allow you to place bets on which teams you think will make the Finals in each conferences
NBA Finals: Same as above, only for the winners of the East and West respectively
Exact Game Bets: This is where you will bet on the exact number of games it will take for team A to be B, or vice versa
How To Approach Betting On The Playoffs
Strewn all about the Internet are different user guides and tip-based articles that attempt to help you bet on the NBA. But you have to realize that none of them are actually current. This is a fresh version of one of those guides, and we're dealing with the teams who are playing right now, and their odds of winning right now, and so this is reflected in the advice we offer.
First and foremost, we have to say that you're better off taking one of the top-two teams until they meet up with one another. So, for the best shot of winning, you should take the Warriors over the Clippers (if the Clippers get through) and the Spurs over the Thunder. This doesn't mean you should take them for every single game, of course. Start out by going with the first two at home on straight bets. Neither one of these teams lost more then two games at home all season, and there's no real reason to assume they would start losing them now. After those two straight bets are out of the way, start looking a little more closely at point spreads. For instance, if GS goes to LA and the Warriors are favored by 8, then you might be better off taking the Clippers to cover, even if you think GS will win. This sort of base covering will allow you the maximum amount of leverage in how you bet.
Another thing here is to try not to think too far ahead. Sure, most people have the Warriors at 44% to win the NBA Finals, and at over 60% to make it there, and in the East the Cavaliers' odds of making the Finals are even higher. But there's no real reason that you have to bet that far in advance. There's no benefit to it. The odds aren't so spectacular that you would need to walk out on that limb. You should take things on a game by game basis, or at the most a series by series basis. For instance, say that you bet on the first two Cavs' home games, but they split 1-1. Maybe Love or Irving got hurt. Maybe James is throwing up bricks. By taking it per game, you can adjust your bets and put your money down on the other team at home for an upset. Don't think of this as any sort of reach. This is what many did with the Cavs vs. Warriors last Finals. After the Cavs won, the bets shifted to the Cavs' favor, and the Cavs won again. Momentum and streaks in basketball are important. Things always seem to even out, but ride the waves when you can.
Lastly, we suggest that you avoid long shots. So, you see a game seven in GS where the Warriors are -320 and the Spurs are +550. That plus side is mighty appealing, but look at what you're dealing with. A team led by Steph Curry, playing at home where they've only lost 1 game all year. It might take you a larger bet to win more money, but that's still a far sight better than losing the money. Think hard about the bets you make before you make them.
The NBA Playoffs will be over before you know it. With a little bit of luck and initiative, you can get to a sportsbook now and start picking the winning teams based on the great teams still left in the fold. You're never going to be 100% to win every bet, but you will come out ahead more often than not by taking the averages.
You can find the schedule and full coverage for the NBA playoffs here. Or if you still have any concerns about the legalities, at the following page you can find answers to common questions such as "is online sports betting illegal?".