Legally Betting On The NBA Playoffs And Finals For 2018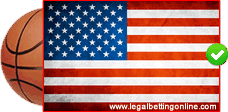 The NBA is growing in viewership, especially with the NFL's decline in popularity over the past couple seasons. The NBA Playoffs are when things get serious for players, fans and bettors. This time is where the big money wagers are. Fans can bet on point spreads, the money line, over/under, props and live wagers. This page is dedicated to the NBA postseason and has information regarding the Playoff matchups, insight into how to bet and more.
For the first time in a couple of seasons, the Playoffs look to be a bit more wide open in terms of favorites. Typically, the Golden State Warriors dominate the Western Conference and the Cleveland Cavaliers control the Eastern Conference. This year, there are a few other teams that may be able to provide an upset. Our analysis below goes into the Playoff teams and matchups. This page will be updated as the postseason continues.
The Legalities - Is Betting On The NBA Playoffs Legal In The US?
p>Believe it or not, there are actually no laws that prohibit players from betting at online sportsbooks. This includes
betting on the NBA
. The laws that do exist actually make the act or business of accepting bets illegal, not placing the bets. So if your local bookie created a website and allowed players to place bets, that would be illegal. But the act of you placing the bets wouldn't. And because all of the sites we recommend are offshore sites,
US gambling law
doesn't apply to them.
There is also some confusion about the UIGEA bill. Many websites report that this bill makes online gambling illegal. That's not true at all. The law is actually aimed at banks and financial institutions and makes it illegal for them to process any transactions related to gambling. But it has no text at all that actually makes the act of placing a bet illegal from the players side.
There are a handful of states that have gambling laws or provisions in place that actually make the act of betting illegal on the state level. However no player has ever been arrested simply for gambling online. The only cases of people being arrested or convicted that we are aware of have to do with the act of accepting bets, not placing them.