Super Bowl 52 Betting Guide Covering Legalities, Odds And Where To Bet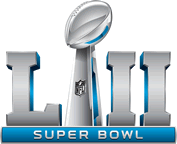 The Superbowl is one of the biggest betting days on the planet with an estimated $100 million being wagered legally every single year via Las Vegas casinos. However it is estimated that almost $8 billion is wagered on the Super Bowl globally via illegal bookies and offshore betting sites. No matter how you place your bet, there is no denying that betting on the Superbowl is something American's love and are passionate about.
Our guide to betting on the Superbowl offers a lot of great content for football enthusiasts. Whether you want to learn about the legalities of betting on football games in the United States, view the latest betting odds or find expert picks, our guide covers it all. We even offer our own personal recommendations on where to bet on the big game and which sportsbooks are the highest rated and most trusted for USA players.
Is Betting On The Superbowl Illegal In The United States?
A lot of players want to know whether or not betting on the super bowl is illegal in the United States. The short answer is no, there is nothing illegal about betting on any sporting event including the Super Bowl via an online sportsbook. What is illegal in the US is the act of offering sports betting as a business. For example your local bookie taking sports bets via a private website is illegal, but the act of you placing the bet isn't.
Currently there are only 4 US states that have legalized online gambling as of 2017. However, none of these states allow online sports betting due to Paspa and the Federal Wire Act. So you won't find any USA companies taking bets. But as we mentioned above, federal regulations only outlaw companies from owning and operating from within the United States. This means these offshore bookmakers can legally offer their betting services to American players as long they are licensed and located outside of physical U.S. borders in a jurisdiction where sports betting is 100% legal. So in closing, this means placing a bet on the Superbowl is not considered illegal in the United States.