Online NFL Draft Betting Guide For 2018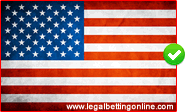 NFL fans can enjoy betting on their favorite teams through licensed offshore sportsbooks throughout the season. There are betting lines on each matchup week after week, with a range of wagering types including point spread bets, over/under bets, parlays, prop bets, future bets and more. Nevada residents enjoy the luxury of placing bets through brick-and-mortar sportsbooks, as they are exempt from the federal ban (Professional and Amateur Sports Protection Act) on sports betting. The Nevada Gaming Commission shook things up a bit this year by allowing a series of prop bets to be offered on the 2018 NFL Draft through their licensed sportsbooks. These betting lines won't allow you to bet on when a certain player will be drafted, but will include things like betting on which conference has the most players drafted, how many wide receivers are drafted in the first round, etc.
All of the online sportsbooks we review offer betting lines on the NFL Draft, but theirs allow you to bet on specific players being drafted at certain points throughout. These types of betting lines are intriguing to those who actively follow the sport and believe they have insight into what the major league teams need in terms of rookie players. The NFL and sports betting are both billion-dollar industries. NFL Draft betting action is fast-paced and exciting.
This guide was created to inform interested bettors on how NFL draft betting works and the best ways to go about it. The NFL live Draft is set to take place from April 25-27, 2018, so bettors are already sizing up their potential wagers. You will also find helpful information on this page about the available NFL Draft prop bets and the odds as far as which players experts believe to be hot commodities. We have included a look at the legal side of betting on the NFL to assist you in making informed decisions that will keep you within the legal confines. Draft Day is one of the most exciting for fans, and NFL Draft betting is just another way to engage with the sport you love.
Is It Legal To Bet On The NFL Draft In The United States?
It is legal to bet on the NFL Draft in the US under two circumstances: If you live in Nevada or by using licensed offshore U.S. sports betting providers. Nevada residents get to enjoy unconditional sports betting through one of the various Las Vegas sportsbooks. All other US residents can bet safely and legally with offshore gambling sites. There are no state or federal laws that say anything about betting with an offshore gambling site as long as it is licensed and regulated by a respected, legitimate government.