Super Bowl 54 Preview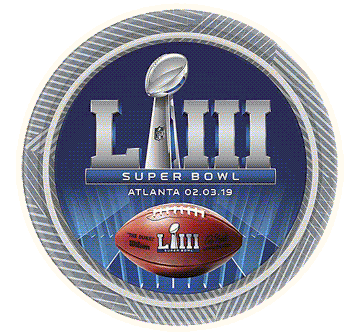 Our Super Bowl LIV preview is coming soon!
Super Bowl 53 Preview
One team will look to further cement their legacy as one of the greatest dynasties ever in not only National Football League history but in the entirety of sports.
The other team will attempt to write a victorious end to their young and talented rosters' beginning chapters—hoping this title will be the first of many to come for arguably the NFL's most-talented all-around team in the league today.
At 6:30 p.m. ET on Sunday, Feb. 3, the matchup between the AFC Champion New England Patriots and the NFC Champion Los Angeles Rams will kickoff and Super Bowl 53 will get underway at Mercedes-Benz Stadium in Atlanta, Georgia.
Then, after 60 minutes of play, we'll know which side lifts the Lombardi Trophy and is crowned the NFL champion for the 2018 season.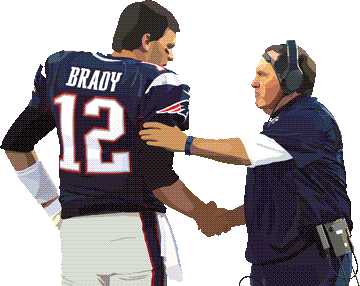 Patriots coach Bill Belichick and quarterback Tom Brady are making their ninth appearance in the Super Bowl, winning five titles since Brady became the starter in 2001—both are NFL records for a head coach and quarterback.
On the opposite end of the field, second-year Rams coach Sean McVay, who is the youngest head coach to ever appear in a Super Bowl at age 32, and third-year quarterback and 2016 first overall pick Jared Goff will be appearing in their first Super Bowl.
Both teams got here in a very similar fashion—winning their conference championship in overtime and doing so on the road in a hostile environment and with controversy attached.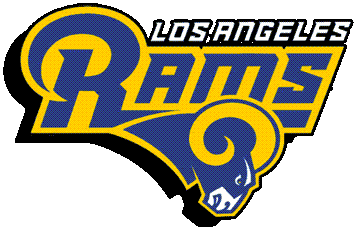 The Rams won the NFC Championship 26-23 in overtime over the Saints on a game-winning 57-yard field goal by Greg Zuerlein in overtime after gaining possession off a Drew Brees interception.
However, a missed pass interference call (and perhaps a helmet-to-helmet penalty on the same play as well) late in the 4th quarter stunned everyone, forced the Saints to kick a field goal, and allowed the Rams to mount a comeback.
In the second game, the Patriots defeated the Chiefs 37-31 in the AFC Championship after winning the coin toss, marching down the field, and ending the game on a two-yard touchdown run by Rex Burkhead.
Chiefs quarterback Patrick Mahomes, who will likely be the NFL's Most Valuable Player this season and who many consider to be the best player in the league, never got a chance to take the field thanks to the league's archaic sudden death overtime rules, making many people wonder: Why is this still a thing?
And with a little help from forces beyond their control, the Super Bowl 53 matchup between the Patriots and Rams was officially set.
But let's not forget: It was 17 years ago in 2001 when Brady and Belichick defeated the then-St. Louis Rams in Super Bowl XXXVI for their first of five titles, winning 20-17 as a 14-point underdog against the "Greatest Show on Turf."
The Patriots took that victory 17 years ago and built perhaps the greatest professional sports dynasty the world has ever seen, while the Rams franchise needed 17 years just to earn a rematch.
If the Rams want to defeat the Patriots, the team, now based in Los Angeles, must pause a moment from writing their next chapter and learn from history—or else their young talent will surely be doomed to repeat it.
Bovada currently has game lines, odds, and multiple prop bets for the big game.
Super Bowl 52 Recap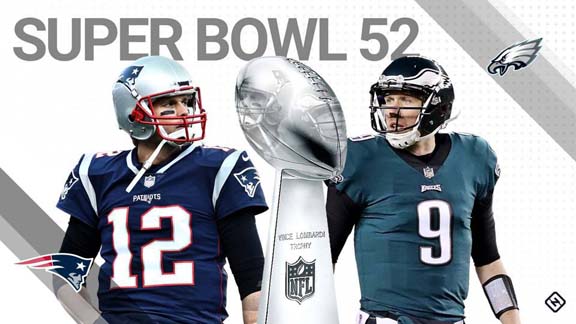 Well, we saw breakout performances from all the players (minus Brandin Cooks) highlighted in our preview, and even though Super Bowl 52 had a record combined offensive yardage of over 1,000, the game came down to defense. Let's take a look back at how things played out.
New England needed to get their run game going, but it was ultimately snuffed. There were several break out runs from each RB, but if you look at the actual stat sheet, it wasn't where it needed to be. The running scheme of Dion Lewis getting the most carries with James White the end-zone option held true for the Super Bowl. Lewis finished with 39 yards on 9 carries with an average of 4.3 per carry. White had the only rushing touchdown and 7 carries for 45 yards. Rex Burkhead had a promising run to continue a drive in the second half, but he finished 3 for 18. He also was part of the botched trick play punt return at the end of the game that left New England stranded inside their own 10.
On the receiving end, it was business as usual—and then some. WR Brandin Cooks had 1 catch for 23 yards right before getting laid out. He left the game with a head injury and never returned. And thus, the Patriots lost 1 of their primary targets. The other 3 receivers stepped up in a big way. Danny Amendola had 152 yards on 8 receptions. Chris Hogan finished with 128 yards on 6 catches and a touchdown. Rob Gronkowski had 9 catches for 116 yards and 2 touchdowns. On the passing front, Brady had the game of his life. He went 28/48 for 503 yards and 3 touchdowns. With numbers like these, it is insane how the Patriots lost, but that just goes to show how much of an impact the defense has. It is also impressive how Brady got those numbers with the fierce pass rush he faced. Brady looked frustrated in the first half due to the Eagles' pressure and only seemed to look settled when they backed off a bit—which is the #1 thing you don't do against New England.
New England's defense gave up 41 points. They let the Eagles convert on fourth down multiple times, one of which resulting in a touchdown and other helping to keep an eventual touchdown-scoring drive alive. The defense has a knack for being toughest in the red zone and this was evident on several occasions in the Super Bowl. They also forced a turnover via an interception from a tipped pass. The defense was just unable to keep up with the multiple threats possessed by Philadelphia's offense. They couldn't pressure Foles enough while keeping his targets in check. They also had to account for x-factors like RB Corey Clement, who had an incredible game.
Philadelphia came to play. QB Nick Foles, who won the Super Bowl MVP, went 28/43 for 373 yards with 3 touchdowns and an interception. The pick was off a good throw but was bobbled by the receiver. Clement, the normal third down back, was his leading receiver with 100 yards on 4 catches (1 of which a touchdown). WR Nelson Agholor had 9 catches for 84 yards, Alshon Jeffery had 3 for 73 with a touchdown and Zach Ertz had 7 for 67 with a touchdown as well. Torrey Smith finished with 5 catches for 49 yards. Foles even had a receiving touchdown off a nicely executed trick play on fourth and goal.
The Eagles' rush, which has been a strong point of their offense, looked good again. New England had a tough time containing former teammate RB LeGarrette Blount, who had 14 carries for 90 yards and a touchdown. RB Jay Ajayi had 57 yards on 9 carries. Clement was utilized more on the reception front, but the Eagles didn't need him rushing because Blount and Ajayi were having so much success.
Philly's defense really shined in this game. From the beginning, they were aggressive in pressuring Brady. He had open looks down the field but no time to get the ball there. The defense had plenty to do with the numerous NE offensive threats, so it was inevitable they would give up some plays. Gronkowski is a mismatch with any defender. Amendola and Hogan kept finding ways to get open. Still, Philly's defense broke up multiple passes to keep things in check. They did a good job of stopping the run too.
The Eagles were guilty of something every team does in the second half—changing up the strategy. Instead of throwing 5 pass rushers at Brady, they would drop to 4 or sometimes even 3 in order to shift to man-to-man. However, New England's receivers are too good for man-to-man, and thus New England was able to get back in the game and eventually take a lead. The Eagles migrated back to their aggressive rushing and forced a sack-fumble late in the fourth to effectively seal the game. The Pats got the ball back with just over a minute, but even Brady couldn't pull this one off between the tight coverage and pass rush flurries.
The Pats didn't get their 6th ring. Brady and Belichick didn't double their Playoff win record. Brady didn't become the first regular season passing yards leader to win a Super Bowl. However, Carson Wentz did become the only backup QB to lead his team to a Super Bowl since Brady. He received his first Super Bowl MVP and the Eagles clinched their first championship. All the players we predicted to go off did (Cooks would have had several more catches) and the underdogs proved to everyone why they were there. Both teams played well, but it came down to play calling and defense and the Eagles had the advantage.